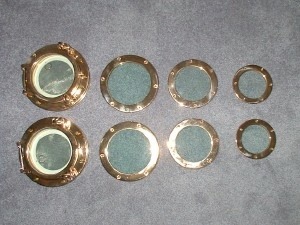 Here are the bronze portholes and port lights. The opening 6 inch portholes (complete with screens) will go onto the cabin trunk sides along with a non opening 6 inch deadlight on each side. The 5 inch ones will go on the aft cabin bulkhead and the 4 inch ones go on the forward cabin trunk. Not shown are the finishing rings for the deadlights that will go on the cabin interior.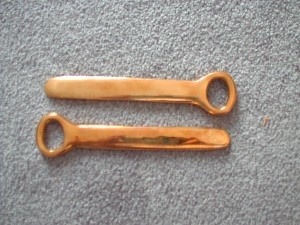 Here are a pair of the chain plates for the boat. These are made of gunmetal and come from Classic Marine. These will need to be drilled for the bolts
.
An overall shot of the assembly. All pieces were done in stainless steel and were nicely finished. The larger outer bearing tube is permanently built into the boat.
The guys at the fabrication shop felt that the heel fitting as designed would trap sediment and other junk so they just added a shoulder to the rudder tube that nested into the bottomless socket of the heel strap. It is a very precise fit.