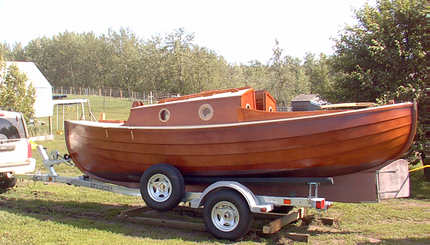 While not strictly a part of construction, the move onto the trailer is a significant event, so this blog entry will describe the process we used. You can see the pictures here.
     The first step would have been unnecessary if I had put her back into the shed stern first after rolling the hull over. Too late for that, so she had to be pulled out into the yard on some 4" x 4" skids so we could get the trailer and our tow vehicle into position in front of her.
     I tried to get the width of the bunks as close to their final position as possible by test fitting the station moulds to the trailer in advance. Rather than final positioning, I tried to set the trailer up for easy loading using the rollers to take most of the boat's weight. Luckily the height of the boat was pretty close to the height of the trailer.
     So began the process of jacking the boat, the bow at first and later the stern, to allow the trailer to be positioned under the boat. The blocking needed to be repositioned often to clear the trailer frames.
     As the trailer took the boat's weight and was steadied from side-to-side by the bunks, we began to dismantle the building "cradle" as it got in the way of the trailer. The pictures show how we needed to jack up the stern to avoid excessive friction on the bunks. The forward bunk supports were one setting lower to ensure the rollers did most of the work. This is why the boat is sitting rather bow down in the picture at the top of the page. This was easily adjusted later.